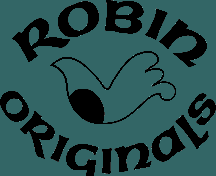 | | |
| --- | --- |
| | See Us At These Exciting Shows |
RETAIL 2017:
CRAFT BOSTON HOLIDAY 2017
Booth 430
Preview Party
Thursday Dec 14, 6-9pm
(benefits Society of Arts & Crafts)
Friday, Dec 15, 11am - 7pm
Saturday, Dec 16, 10am -6pm
Sunday, Dec 17, 11am-5pm
Hynes Convention Center
Society of Crafts - Boston
Art Providence Holiday Sale
Booth 123
Thursday, Dec 8, 5:30-7pm
Friday, December 8 I 5:30 PM to 7:00 PM - VIP Ticket Holders Only
Saturday, December 9 | 10:00 AM to 6:00 PM - General Admission Ticket Holders
Sunday, December 10 | 10:00 AM to 5:00 PM - General Admission Ticket Holders
Rhode Island Convention Ctr
1 Sabin Street
Providence, RI 02903
http://www.artprovidencesale.com/
VIP Preview Night
Friday December 8, 5:30-7pm
Join us for a firstlook at the work of over 200 artists, makers and designers from throughout New England and beyond, including RISD alumni. Includes gift bag, beverages and light hors d'oeuvres. Walk the exhibit floor before doors open to the public on Saturday and Sunday.
$100 Per Person | Buy Tickets
21st Annual Crafts at the Cathedral at Saint John the Divine - NYC
Booth N45
Thursday, November 30 1-9pm
Friday, December 1 10am -8pm
Saturday, December 2 10am-6pm
http://www.craftsatthecathedral.org/
WEST CONCORD DESIGNER ROBIN ORIGINALS
2017 ANNUAL OPEN STUDIO SHOW
WITH GUEST ARTISTS
Fri & Sat, Nov 17 & 18
10am-6pm
23 BRADFORD STREET, 2nd FLOOR
978-369-1925
ROBIN L BERGMAN, Luxury Knitwear
PAMELA BRACCI, Hand Painted Silk Clothing
GARY GENETTI Kiln Formed & Hand Blown Glass
MENA MESSINA, Gemstones, Glass, Silver & Gold Jewelry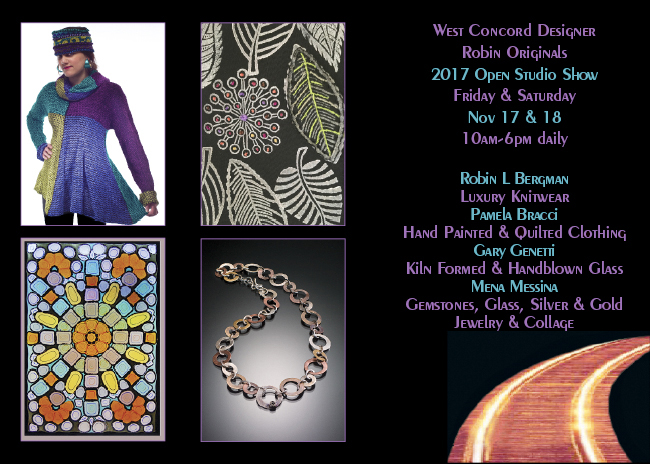 30th Laudholm Nature Crafts Festival at Wells Reserve
Saturday - Sunday, September 9 & 10, 10am-4pm
130 master artisans in a beautiful seaside setting
Wells, Maine
https://www.visitportland.com/30th-laudholm-nature-craf-ev7255.aspx

AMERICAN CRAFT COUNCIL SAN FRANCISCO SHOW
BOOTH 529

Friday, August 4: 10 am – 6 pm
Saturday, August 5: 10 am – 6 pm
Sunday, August 6: 11 am – 5 pm

Fort Mason Center, Festival Pavilion
Marina Blvd & Buchanan St
info: http://www.craftcouncil.org/sf
Purchase discount tickets online : https://fortmason.org/event/american-craft-sf-2017/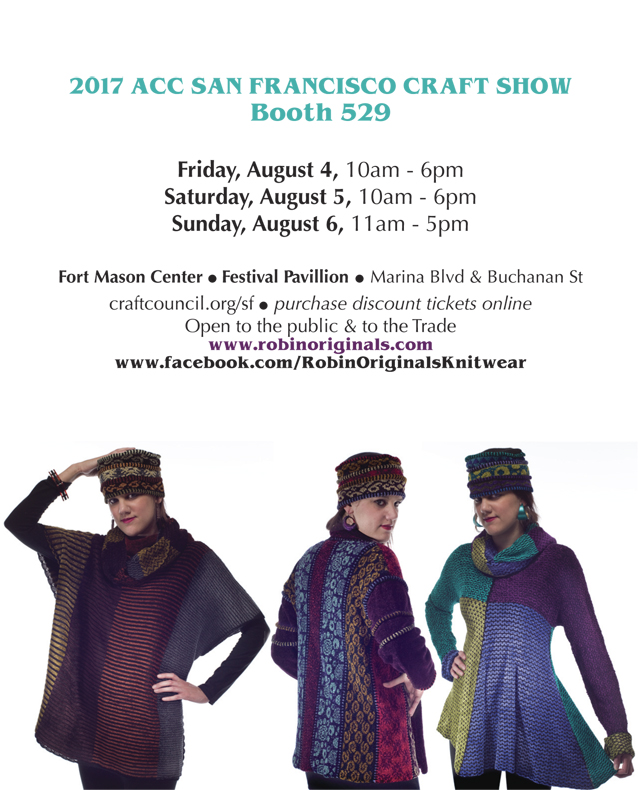 BALTIMORE ACC CRAFT COUNCIL SHOW
Baltimore Convention Center
One W Pratt Street, Baltimore, MD
BOOTH 415
Friday, February 24, 10am - 8pm
Saturday, February 25, 10am - 6pm
Sunday, February 26, 11am - 5pm
http://craftcouncil.org/baltimore
tel: 800-836-3470
More than 650 of the top contemporary artists from across the country

ADVANCE TICKETS
Save time and money by purchasing your tickets online here. Just click, print your tickets, and then present them at the show door
FREE for American Craft Council members and children 12 and under.
Join the ACC and get in free!
$14 one-day pass
$34 three-day pass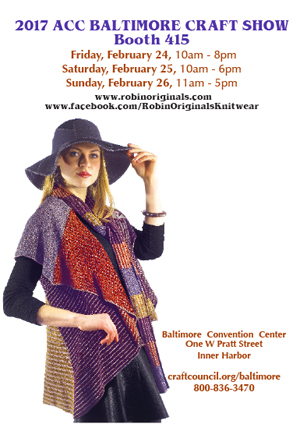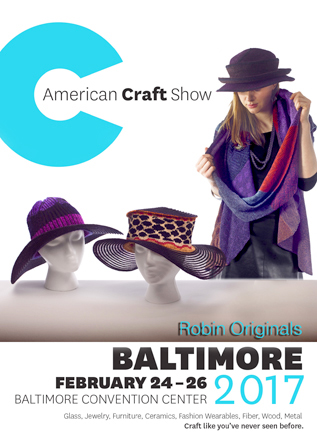 WHOLESALE 2017:
AMERICAN CRAFT COUNCIL SAN FRANCISCO SHOW
BOOTH 529
Friday, August 4: 10 am – 6 pm
Saturday, August 5: 10 am – 6 pm
Sunday, August 6: 11 am – 5 pm
Fort Mason Center, Festival Pavilion
Info: http://craftcouncil.org/sf
Purchase discount tickets online: https://fortmason.org/event/american-craft-sf-2017/
BALTIMORE ACC CRAFT COUNCIL SHOW
Baltimore Convention Center
One W Pratt Street, Baltimore, MD
BOOTH 415
Wednesday, February 22, 10am - 6pm
Thursday, February 23, 10am - 6pm
http://craftcouncil.org/baltimorewholesale
tel:800-836-3470
More than 500 artists
Complimentary buyers' breakfast
Wednesday, Feb. 22: 8:30 – 10 a.m.
Free shuttle from Philadelphia Acre to Baltimore Feb 21 1:30pm, reserve online or email
RETAIL 2016:
CRAFT BOSTON HOLIDAY 2016
Booth 619
Preview Party
Thursday Dec 1, 6-9pm
(benefits Society of Arts & Crafts)
Friday & Saturday,
Dec 2 & 3, 10am - 6pm
Sunday, Dec 4
11am-5pm
Hynes Convention Ctr
900 Boylston St, Boston
http://bit.ly/1aFGWJ8
HOLIDAY SHOPPING OPEN HOUSE AT ROBIN ORIGINALS
23 Bradford St, 2nd fl
West Concord
Fri & Sat, Dec 9 & 10
11am-5pm
www.robinoriginals.com/studio.html
With Guest Artists:
Pamela Bracci,
Muffy Young,
Mena Messina,
Gary Genetti,
Anne Black
ACC SAN FRANCISCO
AMERICAN CRAFT COUNCIL SF SHOW
BOOTH 327
Friday, August 5: 10 am – 6 pm
Saturday, August 6: 10 am – 6 pm
Sunday, August 7: 11 am – 5 pm
Fort Mason Center, Festival Pavilion
Purchase discount tickets online https://fortmason.org/event/american-craft-san-francisco-show/
Craft BOSTON Holiday
December 2 - 4, 2016
Hynes Convention Center
900 Boylston Street
Boston MA
Booth TBA
Fri Dec 2 10am-6pm
Sat Dec 3 10am-6pm
Sun Dec 4 11am-5pm
General Admission $15
(Seniors/Students $12)
---
WHOLESALE 2016: