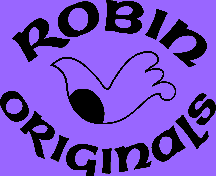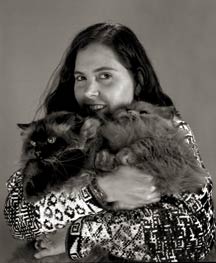 Artist Statement
Artist Statement
~The runway did not do Robin Bergman's line justice. Her pointillism-like knitting becomes even more fascinating when touched and seen up close. Her craftsmanship [is] raised to the level of couture in an area that defies the very category. Her use of color and texture has become her hallmark.~
—Robert Rowe, Maverick Magazine, Fall '93.

I hand loom limited edition and one of a kind knitted artwear from luxury yarns and natural fibers . Influences include ethnographic fabric, antique rugs and weavings, drawing on my background as a painter (with an M.F.A. in painting from the Maryland Institute College of Art in Baltimore, MD in 1980) and my experience as a textile conservator at the Isabella Stewart Gardner Museum in Boston, MA (1980- 84). I love unexpected details such as inverted back pleats, patterned yokes and panels and antique buttons.

Loom knitting is a manual process like weaving using a knitting machine. The making of knitted work is particularly challenging because the fabric, patterning and shaped garment pieces are created simultaneously. Many hours of creativity, work and care go into the creation of each piece. All pieces are hand finished. All designs and fabrics are completely original. My emphasis is on treating the sweater surface more like a canvas, experimenting with surface design and unusual juxtaposition of color, texture and pattern—in effect, painting with yarns. I use combinations of patterns and images across garments to achieve different effects as well as to experiment with different color palettes for the same garments. Most garments have between twenty and thirty yarn colors. Emphasis is on subtle color gradations, texture, scale changes, contrasting patterns and borders. This emphasis on surface design and the fluid quality of the designs is unusual for knitted clothing. Fit and comfort are also important; these are not just ceremonial pieces that cannot be worn. Pattern shapings are deceptively simple using short rowing and subtle shaping detail to achieve a total integration of the garment shape with the graphic and painterly surface, allowing the wearer to become the artwork. I have recently been exploring similar surface design, color and juxtaposition/composition of patterning in quilts, and loomed and off-loom seed bead works.

Handmade clothes are unique in the way that they transcend conventional boundaries. They can simultaneously be objects of art and of utility. They can also appeal to multiple senses, providing sophisticated visual and tactile pleasure even while offering simple warmth and comfort. Knitted fabrics, in particular, defy the usual boundaries of style. They can be traditional in function yet aesthetically modern, comfortable yet elegant.

For me, combining the creation of fabric from scratch with the design and construction of clothing is particularly rewarding. By creating my own fabric, I can make more personal choices in clothing design. The process of fabric design, in turn, is enriched by the creation of a two-dimensional pattern that will be beautifully transformed into a three-dimensional object when worn. By designing textiles I can be innovative and personal while I carry on an ancient and life-affirming tradition.