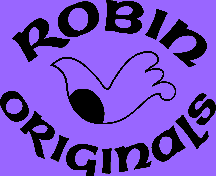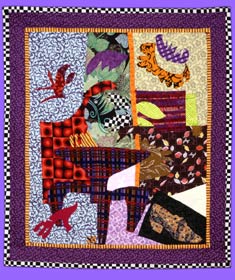 Quilts
Most of my recent work as an artist has been in the realm of knitted and sewn Wearable Art, simultaneously making original fabric and original garments allowing me total artistic control of the finished pieces. With this quilt Still Life With Chair & Shoes I return to processes of previous work : painting , collage, quilting and soft sculpture. I love experimenting with surface design and unusual juxtaposition of color, texture and pattern. This quilt has been exhibited in the 1998 show Beyond the Tradition, Art Quilts, Federal Reserve Bank Gallery, Boston, MA.



Chenille Aishes Chayil Sabbath Coat
Commissioned as the signature piece for Women Whose Lives Span the Century, March 15 -June 14, 1998. A collaborative oral & visual project of the Jewish Women's Archive, Brookline, MA, Starr Gallery at the Leventhal-Sidman Jewish Community Center in Newton, MA and Wyner Museum at Temple Israel in Boston, MA. In the collection of Fran & Don Putnoi, Boston, MA.
Loom-knitted of rayon chenille. 49"W X 53"L. In memory of my maternal grandmother, Fannie Zimmerman Goldberg (1907-1997), wife, mother, grandmother, great-grandmother.
I have created a knitted ceremonial coat to symbolically represent all of the women taking part in the documented oral history narratives. I have divided the coat between color and black and white to represent interruptions from tragedies such as the holocaust or other personal circumstances and incorporated some vintage buttons from some of the women as a decorative design element. The black and white front band of the coat creates the effect of a Tallis and is the opening line of Hebrew from the proverb Aishes Chayil (proverbs 31:10:31). The principal motif represents the ritual of the Sabbath which is allegorically portrayed as the Jewish woman going about her duties to her home, family and community. Lines twelve and thirteen describe the dominant colors I have chosen for the coat.

"An accomplished woman, who can find?-
Far beyond pearls is her value.
...her entire household is clothed with scarlet wool...
...linen and purple wool are her clothing..."
(www.jwa.org)

Torah Cover
Fabrication of this Torah Cover is a natural progression of my interest in Jewish history and design- in 1998, I was commissioned to create a ceremonial coat "Aishes Chayil" as the signature piece for a Jewish Women's Oral History Project. In this work, I have designed patterns representing traditions and symbols of Judaism in colors of the Israeli flag as well as the traditional Tallis (prayer shawl) using them like traditional indigo textiles. I have used the simple hebrew phrase "In the Beginning..." as it is the opening line of the Torah as well as the opening of the creative process.
Hand loomed from yarns in rayon chenille, silk, rayon, lurex, all designs and fabrics are completely original; the piece is completely hand finished. This piece was created for Temple Shir Tikva in Winchester, MA in honor of their new permanent home.

Beadwork
Fabulous seed bead creations in the tradition of her award winning knitwear
Hand Beaded Hat. 2002. Japanese and Czech 11º and Delica glass seed beads, Guterman Buttonhole Twist and Nymo Threads. Techniques: Square Stitch and Bead Crochet. 6.5" H x 14" Diameter This piece took more than 600 hours to complete.